Former Italian midfielder Alberto Aquilani has stated that he has no regrets about his ill-fated stint with Liverpool.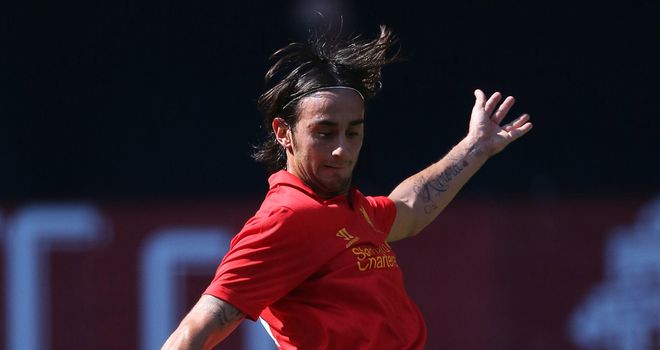 The former Liverpool midfielder arrived at the
Merseyside
from Roma in a deal that cost Liverpool around £17m. However, Aquilani's Liverpool career was plagued with injuries that ensured the former Italian midfielder flopped during his stint in the premier league.
Aquilani throughout his Liverpool spell managed just 28 premier league appearances, eventually quitting the club in 2012, after brief loan spells with Ac Milan and Juventus.
Having left the premier league giant in 2012, Aquilani went on to play for Fiorentina for three years, and Sporting CP for one year. However, this summer, Aquilani signed for new boys Pescara where he now plies his trade.
Aquilani while reflecting on his spell at Liverpool this week, told Gazzetta Dello Sport that it was an honor playing at Anfield.
"I had a great time with Liverpool, and I had the honor of wearing a special shirt and played in an incredible stadium, maybe I should have stayed and continued playing in the Premier League, but I wanted to come back to Italy for family reasons. Nobody forced me out," he said.
The former Italian midfielder is slated to make his debut for Pescara when his club play Inter Milan on Sunday evening and says he is excited to get another opportunity to compete in the Italian top flight. He described Pescara as a club that has been underrated by the rest of Europe but believes they are the right fit for someone like him looking for a return back home.
Aquilani credited Pescara coach Massimo for his reignited spark, as the coach believes players like Aquilani still has so much to offer in the Italian Seria A. As it stands, all eyes would be on Aquilani when he makes his debut for Pescara on Sunday.